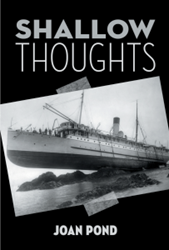 NEW MILFORD, Conn. (PRWEB) August 08, 2013
Poetry offers the power of words to capture powerful emotion and feeling. This new collection of poems from Joan Pond is no exception and includes her perspective on everything from conversations with her grandmother to the death of a loved one, art therapy and personal ads.
Shallow Thoughts features light-hearted poems, showcasing Ponds sense of humor. Her poem Furniture Abuse, triggered by a sign for a missing sofa, asks if it was unhappy at home. She writes, Perhaps a furniture intervention would have been in order. Psychologists would say, re-upholstering could bolster the ego. The selection Bringing in the Sheaves pokes fun at the bouffant hair and sparkly clothes espoused by women who sing for Jesus. They dont look like the folks at work, or the people shopping at the local K-Mart, she writes. I cant help wonder why and where, those ladies get their hair poofed for Jesus.
Pond opens her heart to write about her former husband, Sewall, who has retreated into a shell, thanks to his autism. As she notes in the poem Egocentrism, Sewalls power is unimaginable, yet it is all in his mind. In Chocolate Bunnies, she compares herself to a hollow chocolate bunny with no heart her brother ate as a child. Thats exactly how I felt as I drove down the street, and Sewalls house vanished. I knew I wouldnt be coming back for I was empty and I just didnt have the heart to tell him.
Author Joan Pond, who studied at Yale University, lives in New Milford, Conn. She has written numerous volumes of poetry. Her heartfelt poems, written about topics from the extraordinary to the everyday, speak volumes.

———-

For additional information, please visit http://www.joanpondbooks.com.
Shallow Thoughts

Joan Pond

Dog Ear Publishing

ISBN: 978-1-4575-2061-7